June 29, 2015
Oh my! Nick and I are both suckers for a romantic night under the stars, especially when we are away from lights and cities. We both really wanted the chance to stargaze from the southern hemisphere!
When I found out that there was a Stargazing tour in Queenstown, I was a little bit skeptical because I didn't think we would get great views of the sky in a city. But then I learned that Queenstown is a great place for stargazing. To get away from the lights, all you have to do is get on the other side of the mountains that surrounds Queenstown. A cable car takes you up a mountain, and suddenly, you are away from all of the hustle and bustle of the city.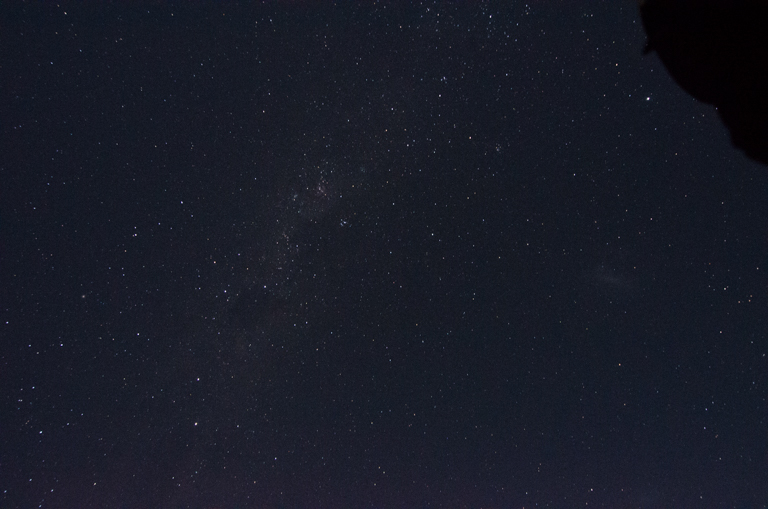 We tried to go stargazing on our first night in Queenstown, but it was cloudy, so it was cancelled. Luckily, we had a few more days and were able to try again towards the end of our stay. It was freezing on the top of that mountain, but they gave us these huge coats to wear when we were outside, so it wasn't too bad. We had a guide who told us so much about the constellations in the southern sky. We learned how to spot the Southern Cross and got to look through these super advanced telescopes that allowed us to see a black hole, the moon, some planets, and nebulas. We could see so many craters on the moon! But I think that the best part of the night for me was seeing that black hole through the telescope. So crazy!!
Nick took a few pictures — these are completely unedited! I love how you can see the glow of the Milky Way.
Where's the best place you've ever seen stars?!