April 24, 2014
It must have been a sight to see – two people carrying 11 bags through the airport.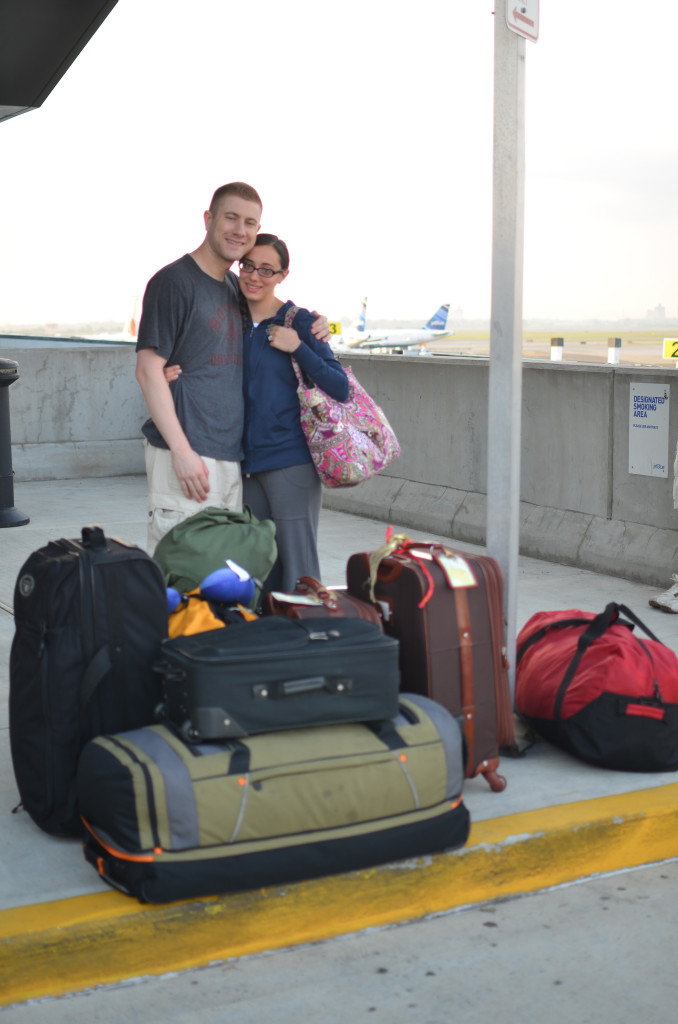 Our family and friends traveled from all over the world for our wedding. A few days later, we had to say goodbye to all of them. It was both heartbreaking and exhilarating to leave behind all that I knew to follow my new husband 5,000 miles from home. After 11 hours in the air, we finally landed in Honolulu. We stayed at the Hale Koa, a military hotel. Right in Waikiki beach, it was the perfect start to our two year honeymoon. The beach was calling me, but priority #1 was finding a place to live and getting Nick checked in to his command. We only looked at one apartment. We filled out an application and moved in within just 3 days of getting here. I could not believe how easy it was for us to find a place to live. We also could have lived on base, but we wanted to find somewhere to live that would give us a real feel for Hawaiian living and would give Nick a break from work life. We settled on Kailua, a beautiful beach town on the windward side of the island.
The movers were a few weeks behind us, but Nick thought ahead and brought an air mattress and a few cooking supplies to get us through. He's moved around the US 7 times in the last 11 years, so he knows the drill by now. It was a bit stressful living in an apartment without everything else, especially knowing that it would be a long time before our furniture arrived. Luckily, I met another military wife before we even found our apartment. She told me that when you move to Hawaii, the military will loan you furniture to hold you over until the movers arrive Within a few days of moving in, Aloha Furniture delivered enough furniture to fill our entire apartment – a bed, a dresser, a nightstand, a table and chairs for the kitchen, and even a living room set complete with lamps. And I didn't have to pay a cent. We also found out that the military will loan you kitchen supplies, and even other household items through the Loan Closet. We borrowed plates, cups, utensils, some pots and pans, and a vacuum. These resources made life so much better while we waited for the rest of our stuff to arrive. But I never would have known about them if I hadn't met someone who had already been through the same thing. A few weeks later, our stuff finally arrived. Honestly, it was not easy to blend our two lives together in our tiny apartment – Nick came from living by himself in a huge house, and I had never moved before. But once we were done sorting through everything and donating some things, the place finally started to feel like home, and we got to get out and start exploring the island. A few months later, now that we have made some purchases together – a couch, some decorations, and picture frames – it really feels like our home.