February 25, 2015
Ever since we started dating, Nick and I have loved to go kayaking together. Wherever the Navy sends Nick or whenever we go on vacation, we usually end up finding a place to go kayaking. So, one of the first things that we did when we moved to Hawaii was to go kayaking to the Mokulua Islands, or the Mokes. What I love about this is little adventure is that the destination is really unique and fun — a small island you can only get out to by kayak or paddleboard, where you can spend the day laying out in the sun, exploring the island, and enjoying views of Oahu. It's one of our favorite things to do when our friends and family come to visit, so we decided to take my brother when he was here a few weeks ago!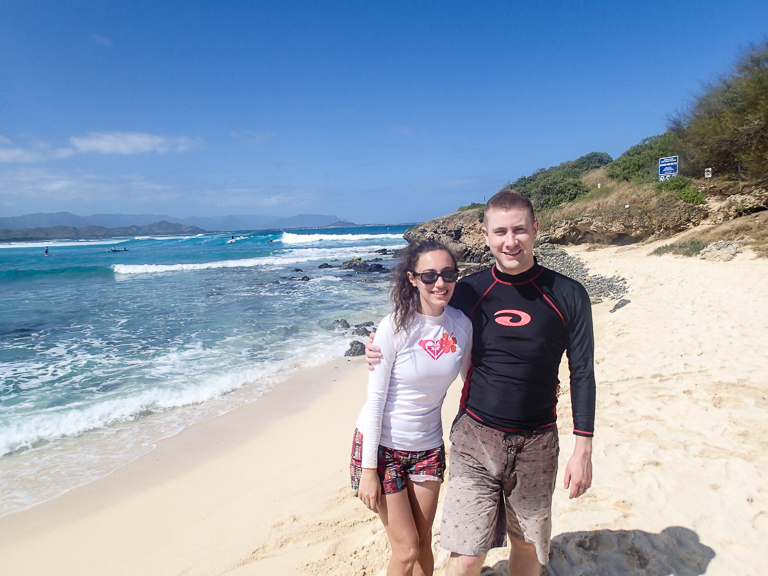 Both Kailua and Lanikai beaches on Oahu look out at these two beautiful islands. You can rent kayaks from Kailua Beach Adventures in Kailua. They give you kayaks, landing permits, directions, information, and everything else you need for your adventure. From there you can bring them out into the ocean and even land on that island on the left.
That's my brother right behind Nick!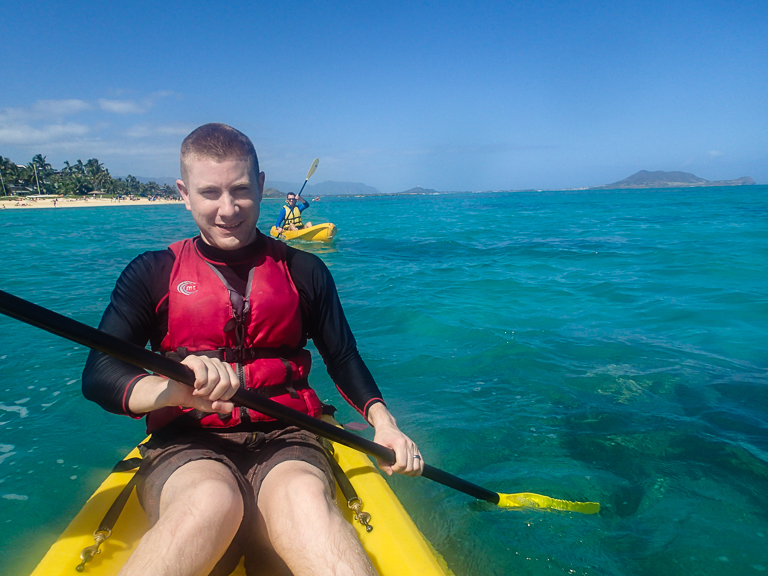 If you are lucky, you might see Hawaiian Green Sea Turtles in the ocean! They are so beautiful. They are endangered and by law you cannot touch them. I always try to keep a lookout for them but I have only seen them a few times.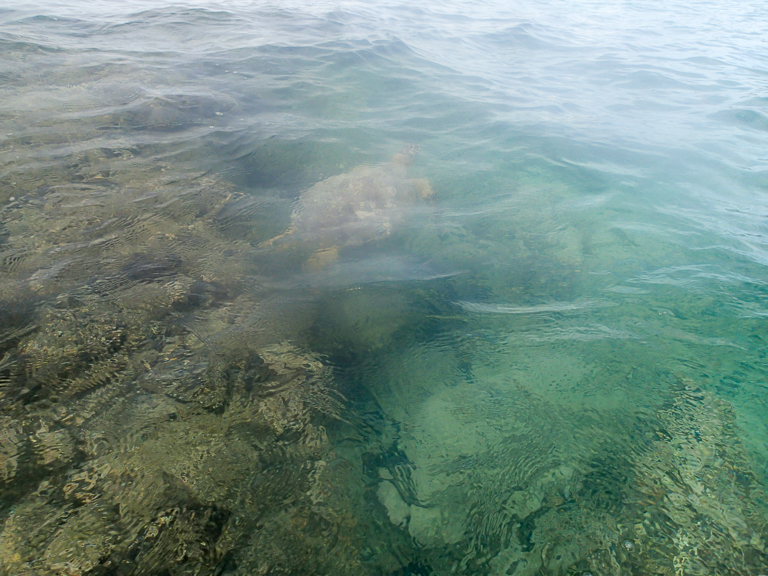 On the way to the Mokes, you pass by the appropriately named Flat Island, which you can also stop at. It is a bird sanctuary and much of it is roped off, so there really is not much to explore. We skipped it this time so we could spend more time on the beach at the Mokes.
Once we made it to the beach, we sat down, ate some sandwiches, and just enjoyed the beach for a while.
It was so much fun.
Unfortunately on the way back something happened to my waterproof camera and now it won't take any more pictures! So I am in need of a new one for hiking and stuff like this. Do you have a waterproof camera that you recommend?
Tips for Kayaking to the Mokulua Islands:
1. Rent drybags. They seriously work and will save everything you bring with you if your kayak gets wet.
2. Rent backrests for your kayaks. It seems kind of like a rip off because the company make you pay extra for them, but your back will be thanking you.
3. Protect yourself from the sun! You're out there in the open ocean with no shade at all. Wear sunscreen and reapply once you get to the beach. Even better — invest in some rash guards to protect your upper body.
4. Kailua Beach Adventures say that going out here is for experienced kayakers only. Check the surf warnings. If the waves are high, consider going another day.
5. If you do decide to go kayaking to the Mokulua Islands and/or to Flat Island, make sure you get a landing permit from Kailua Beach Adventures. Otherwise, you could get a huge fine.