November 2, 2014
Today I'm trying something new! I'm joining my first link-up in an attempt to meet some more bloggers and get outside my comfort zone. I found this link-up through Around the World in 80 Paris of Shoes. The blog's author, Kelly, hosts a travel-themed link-up each month along with bloggers Emma and Rebecca. This month's theme is "Falling in Love on the Road."
There are so many things that I have fallen in love with on the road – cups of coffee, mountains, beaches, cabins, wine, restaurants, foods, books, moments, and my most cherished photos. It's a pretty open topic, but only one thing immediately jumped out at my mind.
Nick.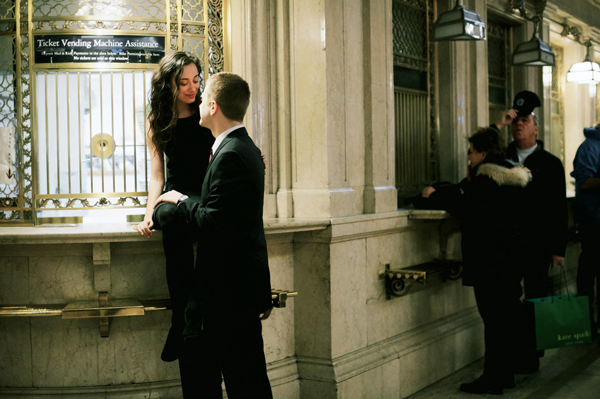 one of our engagement photos at Grand Central Station, by Photo by Basia
Okay, that may be the obvious choice. And sure, you may think, it's easy to fall in love with someone when you are on vacation together. But that's not what I am talking about. Well, not exactly.
You see, ever since we met, Nick has been on the road. He's moved across the country, was deployed on a submarine, and traveled across the Pacific ocean. One year into our relationship, he graduated from college and moved to South Carolina for training. He had to drive his car down there from New York, so we made a road trip out of it. I decided to drive down with him and then fly back to New York by myself. For the first time, we would be separated from each other. I didn't know it at the time, but we would be in a long distance relationship for the next 5 years.
We had so much fun just being together in the car. Those days were sad for me, but I fell even more in love with Nick that weekend.  Instead of dwelling on the fact that we were about to be separated, Nick was just living in the moment and enjoying our time together. Nick also didn't mind stopping every half hour for me to go to the  bathroom. He let me sleep in the car, doing most of the driving himself. He got my favorite snacks for the trip. He made the most of our trip by planning out a place for us to stay overnight instead of driving down there all at once. That trip was a turning point in our relationship.
Stopping for food on our road trip to South Carolina, in the fall of 2008. I had no idea we would be separated for 5 years.
Somehow, every moment we spent that weekend together seemed more precious than it would have if we were just hanging out at his apartment. I had never felt more present with him than I did that weekend. On the road, I saw him in a new light. I knew that I had no idea what I was getting into, but I knew that I wanted to take this journey with Nick.
On the day I had to back to New York, we got to the airport only to find out that Nick accidently booked my flight home for the day before I was supposed to leave. I started crying because I had a big event to go to the next day at my internship and I knew I would be in huge trouble if I missed it for any reason. So Nick bought me a ticket for a flight home later that evening. I could have stayed a few extra days and gotten a cheaper flight – would it really have hurt to miss a few days of class? – but Nick knew how important it was to me to get home for that event so he made it happen without even thinking. Looking back, I probably could have just called work and explained the situation, and Nick knew that. But I was a lowly intern afraid of messing up, and Nick completely understood my frame of mind.
That's love.
This was our "stolen day" together. While I waited for my later flight, we went to what became one of our favorite places to eat in Charleston.
Since that road trip, I traveled a lot to see Nick, he traveled a lot to see me, and we traveled a lot together. It was really hard to only be with Nick for a day or two at a time, but we always made the most of it. Sure, it felt like a vacation when I would go to Washington or South Carolina for the weekend or when we would go off on a trip together. But when you travel with someone, you really get to know them. When you're traveling, you're out of your element. Whenever things didn't go according to plan (and they usually didn't), or if one of us forgot something important (like my ID), or if one of us missed our flights (which happened quite a lot), Nick would never get upset. He would take things in stride and come up with a solution, while I was usually panicking. It was in those little moments that I got to see the kind of person Nick really was – patient, calm, caring, understanding. Of course, our time together was amazing most of the time. And those were the moments I got to see how adventurous Nick is, how spontaneous he is, how much he loves life. I fell more and more in love with him.
Turns out, all of this taught us that traveling and discovering new things together is what connects us, what we love to do. It kept us connected when we hardly ever saw each other, and it keeps us connected now when it's so easy to slip into the routine of married life. Every time I travel somewhere with Nick, I learn new things about him, become closer to him, and make amazing memories that only we share. For however long we are away we are completely focused on each other and just forget about everything else. To me, it's the most romantic thing we do together.
Love it when he laughs. Another engagement photo by Photo by Basia
Right now, we are planning our belated honeymoon – a two-week road trip throughout New Zealand. There will be hiking, kayaking, exploring, and plenty of wine. We are having so much fun planning out our trip. It will be our first international trip together, and it's my first time planning out an international trip. I'll be posting more about how we are planning everything and deciding where to go!
What have you fallen in love with on the road?